Susan F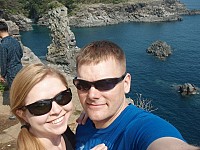 About Susan:
I love to find adventure everywhere. I don't just keep a bucket list, I am always crossing things off. I'm not very picky about my bucket list, if I h ...read more
Mission Statement:
To get as much out of life as I can, try anything at least once, go everywhere I can and don't let a moment slip by. Never say "I wish I would have".
Bucket List Item Information
Marfa lights (Marfa, Texas)
"Mysterious lights that float around the desert! There is a nice viewing center near the town."

Add This To Your Bucket List
Viewing details are set to Friends Only
Who Witnessed This Event/Item
Who Else Has This On Their Bucket List
Similiar Bucket List Ideas
Tunnel of Lights, Japan - (2) people
Enter a Texas hold'em tournament - (2) people
Ride on a fire engine with the lights and sirens on - (2) people
Smashing Times (Dallas, Texas) - 12/27/15 (Susan F)
See the Northern Lights again, this time in the winter - 08/20/10 (Shiloh Williams)
See the Northern Lights of Alaska - 07/13/11 (Jim Morrison)
✔Sam Houston Statue (Houston, Texas) - 01/02/16 (Susan F)
Sixth Floor Museum (Dallas, Texas) - 12/27/15 (Susan F)
Tour Texas Capital Building - 04/21/17 (Megan Nicole)
Experience the Northern Lights / Aurora Borealis - 08/10/11 (Kristen DeRouen)