Susan F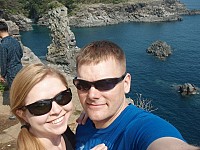 About Susan:
I love to find adventure everywhere. I don't just keep a bucket list, I am always crossing things off. I'm not very picky about my bucket list, if I h ...read more
Mission Statement:
To get as much out of life as I can, try anything at least once, go everywhere I can and don't let a moment slip by. Never say "I wish I would have".
Bucket List Item Information
Go to Walter White's House (Albuquerque, New Mexico)

Completed on 07/07/2015
"We stayed in Albuquerque for the night and drove to the house. The people there apparently don't like people taking pictures of their house (don't know why they bought a house that was in a popular TV show if they didn't want people taking pictures of it) but it was still fun. We got a picture of it."

Add This To Your Bucket List
Viewing details are set to Friends Only
Who Witnessed This Event/Item
Who Else Has This On Their Bucket List
Similiar Bucket List Ideas
Yellow House - Potts Point - 03/26/13 (Lance Garbutt)
Tanilba House - Tanilba Bay - 04/22/13 (Lance Garbutt)
Go to the Oregon Vortex and House of Mystery (Gold Hill, Oregon) - 06/11/14 (Susan F)
Visit Dorothy's House and the Land of Oz (Liberal, Kansas) - 06/11/14 (Susan F)
Buy my mum a house - 06/09/11 (Bianca Green)
Build a tree house - (26) people
Have an entire Michigan State room in my house - 07/29/10 (Joseph Clark)
Visit Michael Jackson's last house - (2) people
✔Perform at a coffee house - 06/15/11 (Russell Doiron)
White Sands National Monument, New Mexico - 04/07/13 (Lance Garbutt)