Susan F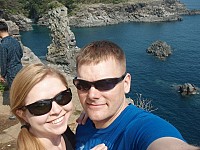 About Susan:
I love to find adventure everywhere. I don't just keep a bucket list, I am always crossing things off. I'm not very picky about my bucket list, if I h ...read more
Mission Statement:
To get as much out of life as I can, try anything at least once, go everywhere I can and don't let a moment slip by. Never say "I wish I would have".
Bucket List Item Information
Do an all day (or weekend) movie marathon

Completed on 08/28/2016
"Was on a overseas flight and I watched 5 movies in a row! I think that should count! I watched My Big Fat Greek Wedding, My Big Fat Greek Wedding 2, Joy, Keanu and one more! I can't remember it!"

Add This To Your Bucket List
Viewing details are set to Friends Only
Who Witnessed This Event/Item
Who Else Has This On Their Bucket List
Similiar Bucket List Ideas
Berlin Marathon - 04/05/14 (Lance Garbutt)
Go movie-hopping - 05/31/11 (Shai Teichman)
Helsinki Marathon (Finland) - 07/29/14 (Lance Garbutt)
Be an extra in a movie/tv show - 02/27/16 (Susan F)
Go to a midnight premiere of a movie - (7) people
Scotiabank Toronto Waterfront Marathon - 07/31/14 (Lance Garbutt)
✔DuckTales: The Movie - Treasure of the Lost Lamp - 05/11/14 (Lance Garbutt)
Adelaide Marathon - Adelaide, 42.2km, August - 01/11/14 (Lance Garbutt)
Antarctica Marathon - 05/17/14 (Lance Garbutt)
Phineas and Ferb Movie - 05/31/14 (Lance Garbutt)