Susan F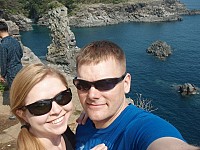 About Susan:
I love to find adventure everywhere. I don't just keep a bucket list, I am always crossing things off. I'm not very picky about my bucket list, if I h ...read more
Mission Statement:
To get as much out of life as I can, try anything at least once, go everywhere I can and don't let a moment slip by. Never say "I wish I would have".
Bucket List Item Information
Read the Odyssey in Ancient Greek

Completed on 05/12/2006
"I studied ancient Greek for 2 years until I finally was able to read the Odyssey in Greek. I loved every struggling minute of it."

Add This To Your Bucket List
Viewing details are set to Friends Only
Who Witnessed This Event/Item
Who Else Has This On Their Bucket List
Similiar Bucket List Ideas
Read at least half of the top 50 greatest novels of all time - 01/02/16 (Susan F)
Read "A Tale of Two Cities" by Charles Dickens - (3) people
Read Sun Tzu's The Art of War - 08/11/12 (Johnny Gonzales)
Read a book in Central Park - 01/04/15 (Alisha Ellis)
69. Eat out alone and just read - 11/26/10 (Jordan Sims)
Attend a Greek Festival - 09/01/12 (Caroline Olmstead)
Read "Wuthering Heights" Emily Bronte - 05/16/10 (Carol Sugden)
Read all of Aesop's fables - 08/01/12 (Johnny Gonzales)
✔read War of The Worlds - 07/13/11 (Mae Babcock)
Read and comprehend something by Shakespeare - 03/23/11 (Jeanna Founds)