Susan F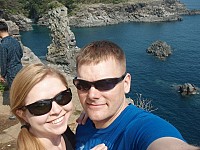 About Susan:
I love to find adventure everywhere. I don't just keep a bucket list, I am always crossing things off. I'm not very picky about my bucket list, if I h ...read more
Mission Statement:
To get as much out of life as I can, try anything at least once, go everywhere I can and don't let a moment slip by. Never say "I wish I would have".
Bucket List Item Information
Throw a hat up in the air in front of the Mary Tyler Moore Statue (Minneapolis, Minnesota)
"I loved that show as a kid and want to do something to commemorate it. "

Add This To Your Bucket List
Viewing details are set to Friends Only
Who Witnessed This Event/Item
Who Else Has This On Their Bucket List
Similiar Bucket List Ideas
Get a picture in front of the F*cking, Austria sign - 07/08/14 (Marsha Roberts)
135) THROW A DRINK IN SOMEONE'S FACE - 06/10/12 (Marisa M)
Devil's Kettle (Judge C. R. Magney State Park is a state park, Minnesota) - 12/21/14 (Susan F)
✔Throw A Fistful Of Glitter Up Into The Air - 11/07/13 (Lance Garbutt)
330. Make front page in the newspaper - (2) people
✔Throw a wine and cheese party - 03/27/11 (Annie H,)
Cement project 12 - make ornament / statue - 09/19/16 (Jaimee-Leigh Wignell)
Have a marble face statue done of me - 10/02/17 (Lance Garbutt)
visit queen mary - 08/30/15 (j nadonza)
Go to the crown of the Statue of Liberty - (3) people