Susan F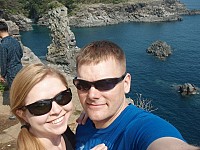 About Susan:
I love to find adventure everywhere. I don't just keep a bucket list, I am always crossing things off. I'm not very picky about my bucket list, if I h ...read more
Mission Statement:
To get as much out of life as I can, try anything at least once, go everywhere I can and don't let a moment slip by. Never say "I wish I would have".
Bucket List Item Information
Complete a puzzle over 5,000 pieces
"Perhaps "Life" a 24,000 piece puzzle http://www.seriouspuzzles.com/i4195.asp?usid=43cq-21ix-5r71-0wq0&turl=i4195.asp&gclid=CP33r4SX98MCFQYFaQodrhYAuw"

Add This To Your Bucket List
Viewing details are set to Friends Only
Who Witnessed This Event/Item
Who Else Has This On Their Bucket List
Similiar Bucket List Ideas
Complete my Zombie Apocalypse plan - (2) people
Complete the Ironman Triathlon - 10/14/13 (Lance Garbutt)
136. Read the Complete Works of Shakespeare - 03/13/11 (Emma McD)
✔Complete 400 hours of Volunteer Experience - 11/14/12 (Corinne ~)
Complete 101 bucket list items - (2) people
✔Have a complete day of pampering from begining to end - 06/14/11 (Ashley D.)
Complete 1000 items on the bucket list - 08/12/14 (Susan F)
Complete 1800 items on the bucket list - 02/15/15 (Susan F)
Complete a 1,000 piece puzzle - (27) people
Complete A Spartan Sprint Race - 05/04/14 (Lance Garbutt)