Susan F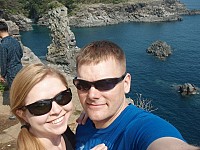 About Susan:
I love to find adventure everywhere. I don't just keep a bucket list, I am always crossing things off. I'm not very picky about my bucket list, if I h ...read more
Mission Statement:
To get as much out of life as I can, try anything at least once, go everywhere I can and don't let a moment slip by. Never say "I wish I would have".
Bucket List Item Information
Drink from a glass of wine from every continent
"1/6 1) North America"

Add This To Your Bucket List
Viewing details are set to Friends Only
Who Witnessed This Event/Item
Who Else Has This On Their Bucket List
Similiar Bucket List Ideas
Drink red wine - 07/24/12 (Johnny Gonzales)
Have a Wine Cellar/Collection - (4) people
Drink Cocktails on a Beach in the Caribbean - (2) people
Drink wine infront of the eiffle tower - 09/11/11 (zander schmidt)
135) THROW A DRINK IN SOMEONE'S FACE - 06/10/12 (Marisa M)
walk on the glass over the grand canyon - 02/24/11 (Sara Edwards)
Drink coffee in a European cafe' - 09/27/11 (Annie H,)
Drink a Manhattan in Manhattan - 01/30/14 (Steve Morris)
Make and drink my own wine - 07/07/14 (Marsha Roberts)
Murder Mystery Wine Train in Napa - 06/03/12 (Rebecca Orbegoso)