Susan F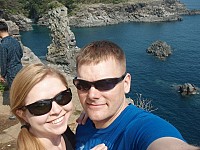 About Susan:
I love to find adventure everywhere. I don't just keep a bucket list, I am always crossing things off. I'm not very picky about my bucket list, if I h ...read more
Mission Statement:
To get as much out of life as I can, try anything at least once, go everywhere I can and don't let a moment slip by. Never say "I wish I would have".
Bucket List Item Information
Kobe Luminarie in December (Kobe, Japan)
"A light festival held every December in Kobe, Japan"

Add This To Your Bucket List
Viewing details are set to Friends Only
Who Witnessed This Event/Item
Who Else Has This On Their Bucket List
Similiar Bucket List Ideas
Hells of Beppu Hot Springs in Japan - 09/12/19 (Corinne ~)
Experience The Atmosphere Of Toyko ,Japan - 09/23/13 (Lance Garbutt)
See a Sumo Wrestling Match in Japan - 03/29/14 (Steve Morris)
Go to a Hanami (cheery blossom viewing party) in Japan - 07/08/10 (Diana Giraldo)
Cosmo Clock 21, Yokohama, Japan - 08/24/14 (Lance Garbutt)
Tarumae Gorge (Hokkaido, Japan) - 09/04/14 (Susan F)
Skytrain in Japan - 05/24/13 (Lance Garbutt)
Eat different types of food: Kobe Beef - 01/31/14 (Steve Morris)
Tunnel of Lights, Japan - (2) people
Go to Japan with Larissa - 09/15/16 (Katrina Marchant)