Susan F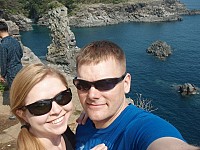 About Susan:
I love to find adventure everywhere. I don't just keep a bucket list, I am always crossing things off. I'm not very picky about my bucket list, if I h ...read more
Mission Statement:
To get as much out of life as I can, try anything at least once, go everywhere I can and don't let a moment slip by. Never say "I wish I would have".
Bucket List Item Information
Port Chicago Naval Magazine National Memorial (Concord, California)
"Has limited access so may not be able to see it."

Add This To Your Bucket List
Viewing details are set to Friends Only
Who Witnessed This Event/Item
Who Else Has This On Their Bucket List
Similiar Bucket List Ideas
✔Walk on the sky deck on Sears Tower (Chicago, Illinois) - 08/19/11 (Susan F)
Watch a California sunset from my hippie van - 01/04/15 (Alisha Ellis)
Visit Big Bend National Park - 03/09/14 (Steve Morris)
Go to the Thomas Jefferson Memorial (Washington D.C.) - (2) people
Tuzigoot National Monument (Camp Verde, Arizona) - 10/24/14 (Susan F)
Ted Smout Memorial Bridge, Brisbane - 07/23/14 (Lance Garbutt)
Visit Harpers Ferry National Park, WV - 01/06/12 (Jennifer Rodriguez)
Pipe Spring National Monument (Fredonia, Arizona) - 10/24/14 (Susan F)
✔Go to Huntington Beach, California - 08/22/12 (Corinne ~)
Thomas Edison National Historic Park (West Orange, New Jersey) - 05/09/14 (Susan F)