Susan F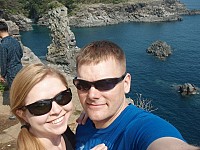 About Susan:
I love to find adventure everywhere. I don't just keep a bucket list, I am always crossing things off. I'm not very picky about my bucket list, if I h ...read more
Mission Statement:
To get as much out of life as I can, try anything at least once, go everywhere I can and don't let a moment slip by. Never say "I wish I would have".
Bucket List Item Information
Travel to 100 different countries
"7/100 1) Canada 2) Mexico 3) USA (still counts, I traveled all over 4) Italy 5) Vatican City 6) South Korea 7) North Korea"

Add This To Your Bucket List
Viewing details are set to Friends Only
Who Witnessed This Event/Item
Who Else Has This On Their Bucket List
Similiar Bucket List Ideas
✔Travel on vacation by myself - 01/21/16 (Susan F)
Travel on the Trans-Siberian express across Asia - 07/27/11 (Rebecca Gallagher)
Travel around Canada - 01/03/12 (Emma Britton)
Travel to Europe - (2) people
✔Travel destination: Hungary - 08/05/13 (Christina Christensen)
Travel to 25 countries (at least) - (2) people
Visit a bunch of cool countries in Europe - 06/04/10 (Amanda Bieger)
✔Travel to the Caribbean - 09/12/10 (K M)
Travel destination: Barcelona, Spain - 08/05/13 (Christina Christensen)
Travel across Cananada - 06/24/10 (Kelsey R)