Michelle Hudson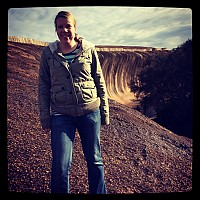 About Michelle:
I love hanging out and going to the beach and surfing even though I'm pretty bad at it. I have had a bucket list since 2005. I'm slowly crossing thing ...read more
Mission Statement:
One day your life will flash before your eyes. Make sure it's worth watching.
Bucket List Item Information
Spend 14 day surfing at park beach
"Park beach is my favourite surfing beach. Actually its my favourite beach period. I want to take a holiday there and surf every day."

Add This To Your Bucket List
Who Witnessed This Event/Item
Who Else Has This On Their Bucket List
Similiar Bucket List Ideas
See the Alice in Wonderland statue in Central Park - (6) people
Spend a whole day eating junk food and not feel guilty about it - 09/19/10 (Jessica Mallow)
Trousers Beach - 04/20/14 (Lance Garbutt)
TAKE A MIDNIGHT WALK ON THE BEACH DURING A FULL MOON - (2) people
Spend a week in L.A - 03/29/11 (Autie Barnes)
Read an entire book on the beach - (2) people
Drive down Going-to-the-Sun Road (Glacier National Park, Montana) - 11/28/14 (Susan F)
Mother's Day Classic - Adelaide - Peace Park , 7.2km, May - 01/11/14 (Lance Garbutt)
✔Spend a night at The Hill Club in Nuwara Eliya, Sri Lanka - 08/01/11 (Sharon Widell)
✔Fall Asleep on the Beach - 12/28/12 (Miranda Hogan)