Susan F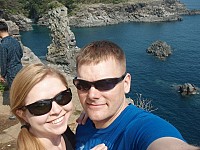 About Susan:
I love to find adventure everywhere. I don't just keep a bucket list, I am always crossing things off. I'm not very picky about my bucket list, if I h ...read more
Mission Statement:
To get as much out of life as I can, try anything at least once, go everywhere I can and don't let a moment slip by. Never say "I wish I would have".
Bucket List Item Information
Everglades National Park (Homestead, Florida)

Completed on 08/22/2014
"We went to this park a few times on our trip, it is huge! We first went down near Miami. We saw some gators, some bugs and other wild life. We went again on an airboat tour and again to Shark Valley but we missed the trolly tour so we'll have to go back."

Add This To Your Bucket List
Viewing details are set to Friends Only
Who Witnessed This Event/Item
Who Else Has This On Their Bucket List
Similiar Bucket List Ideas
Fort Larned National Historic Site (Larned, Kansas) - 06/25/14 (Susan F)
Jurassic Park - 10/28/14 (Lance Garbutt)
Scotts Bluff National Monument (Gering, Nebraska) - 07/10/14 (Susan F)
✔National Bandanna Day - 09/23/14 (Lance Garbutt)
Hancock Gorge, Karijini National Park (Western Australia, Australia) - 04/23/16 (Susan F)
See Rocky Mountain National Park (Colorado) - (2) people
Mother's Day Classic - Canberra Commonwealth Park, 10km, May - 01/11/14 (Lance Garbutt)
Tuskegee Airmen National Historic Site (Tuskegee, Alabama) - 07/27/14 (Susan F)
Theodore Roosevelt Birthplace National Historic Site (New York City, New York) - 07/19/14 (Susan F)
Camp in every UK national park: Loch Lomond & the Trossachs - 01/29/14 (Steve Morris)