Susan F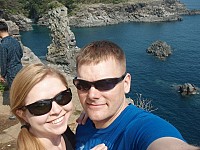 About Susan:
I love to find adventure everywhere. I don't just keep a bucket list, I am always crossing things off. I'm not very picky about my bucket list, if I h ...read more
Mission Statement:
To get as much out of life as I can, try anything at least once, go everywhere I can and don't let a moment slip by. Never say "I wish I would have".
Bucket List Item Information
Castillo de San Marcos National Monument (St. Augustine, Florida)

Completed on 08/18/2014
"We visited St. Augustine for just a night, I just wish we would have had a little longer. I loved going here and I loved learning about this history."

Add This To Your Bucket List
Viewing details are set to Friends Only
Who Witnessed This Event/Item
Who Else Has This On Their Bucket List
Similiar Bucket List Ideas
Chattahoochee River National Recreation Area (Dunwoody, Georgia) - 05/09/14 (Susan F)
✔San Antonio Missions National Historical Park (San Antonio, Texas) - 10/13/14 (Susan F)
Gates of the Arctic National Park (Fairbanks, Alaska) - (2) people
✔Lake Mead National Recreation Area (Boulder City, Nevada & Arizona) - 10/30/14 (Susan F)
Kalaupapa National Historical Park (Kalaupapa, Hawaii) - 10/29/14 (Susan F)
✔National Treasure - 05/26/14 (Lance Garbutt)
✔Jenny Lake (Great Tetons National Park, Wyoming) - 01/16/16 (Susan F)
See Monument Valley (Arizona/Utah) - 12/14/11 (Susan F)
Assateague Island National Seashore (Berlin, Maryland and Virginia) - 07/10/14 (Susan F)
Morning Glory Pool, Upper Geyser Basin, Yellowstone National Park, Wyoming - (2) people