Susan F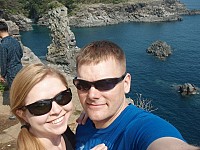 About Susan:
I love to find adventure everywhere. I don't just keep a bucket list, I am always crossing things off. I'm not very picky about my bucket list, if I h ...read more
Mission Statement:
To get as much out of life as I can, try anything at least once, go everywhere I can and don't let a moment slip by. Never say "I wish I would have".
Bucket List Item Information
Make a snow angel

Completed on 12/03/2015
"In early December O and I went outside to play in the snow and we laid down and made snow angels, mommy and daughter ones :)"

Add This To Your Bucket List
Viewing details are set to Friends Only
Who Witnessed This Event/Item
Who Else Has This On Their Bucket List
Similiar Bucket List Ideas
✔See the Angel of the North - 08/11/10 (Nicholas Todd)
✔Go a day without trying to make someone laugh - 09/22/10 (N T)
Make £100 off the Stock Market - 04/19/14 (Steve Morris)
Watch Tibetan monks make sand art (Tibet) - 02/02/14 (Susan F)
Learn how to make sushi - (3) people
Make 50 Things From Instructibles.Com - 04/19/14 (Steve Morris)
Make a life altering decision on a dice roll - (13) people
Make a US map with pictures - 05/11/14 (Jenny Duarte)
✔Make someone realise there is more to life than technology - 11/12/13 (Lance Garbutt)
Give such a great gift it would make the person cry - (5) people