Susan F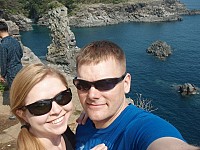 About Susan:
I love to find adventure everywhere. I don't just keep a bucket list, I am always crossing things off. I'm not very picky about my bucket list, if I h ...read more
Mission Statement:
To get as much out of life as I can, try anything at least once, go everywhere I can and don't let a moment slip by. Never say "I wish I would have".
Bucket List Item Information
Buy a lottery ticket with Chinese Fortune Cookie number

Completed on 02/18/2015
"We don't eat take out too often but I was sick a few weeks ago and didn't feel up for cooking so we ordered some Chinese food. I kept the fortune cookie number and had my husband pick 1 out of 4. I took $2 and bought a powerball ticket at the grocery store. Fingers crossed I win the powerball so we can cross everything off my massive bucket list!"

Add This To Your Bucket List
Viewing details are set to Friends Only
Who Witnessed This Event/Item
Who Else Has This On Their Bucket List
Similiar Bucket List Ideas
Play Ticket to Ride - 09/21/14 (Lance Garbutt)
Go to the Airport and Buy a Ticket on the Next Plane Leaving - (2) people
Buy the next available ticket in an airport - (3) people
Go to the airport and buy a ticket for the next flight out in the USA - 06/17/10 (Jamie Praslicka)
✔Chinese Food - 03/31/13 (Lance Garbutt)
get a cute guy's phone number - 06/12/12 (Amelia Johnson)
Visit 10 cities with a number in the name - 12/23/17 (Pete R)
Buy a round the world ticket and dissappear for a year - 11/01/11 (Lisa Jones)
see a fortune teller - (6) people
make my own cookie recipe - 03/29/12 (Jennifer Collins)