Susan F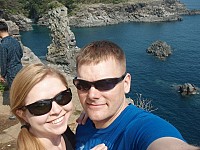 About Susan:
I love to find adventure everywhere. I don't just keep a bucket list, I am always crossing things off. I'm not very picky about my bucket list, if I h ...read more
Mission Statement:
To get as much out of life as I can, try anything at least once, go everywhere I can and don't let a moment slip by. Never say "I wish I would have".
Bucket List Item Information
Do a themed movie/dinner at least once a year every year
"2015- Western theme: Sloppy Joes, Tex-Mex Pepper nachos and Tex-Mex avocado rolls. Movie: Fieval Goes West."

Completed on 06/06/2016
"We've done one about every two or three weeks in 2016, think it's going to be a family tradition!"

Add This To Your Bucket List
Viewing details are set to Friends Only
Who Witnessed This Event/Item
Who Else Has This On Their Bucket List
Similiar Bucket List Ideas
Have a christmas movie marathon - 10/06/16 (Michelle Hudson)
✔Make 2O11 A Good Year:) - 01/09/11 (Josie Nada)
Go to a drive in movie theater - 06/08/12 (Caty Davis)
Go to an outdoor movie (not a drive in) - (2) people
Take a picture every day for a year (also take a picture whenever i complete an item on my bucket list) - (3) people
Send a postcard every day for a year - 01/02/12 (Angie Quinby)
Have a Korean movie Mara - 04/11/11 (Maake-Ena Afitu)
Drink from a 20+ year old bottle of alcohol - (2) people
✔Have a relationship that lasts successfully for at least a year - 05/23/12 (Caroline Kulikowski)
After a year of bucket list, hold a dinner party for all my female friends - 10/23/10 (Bekki Richens)