Susan F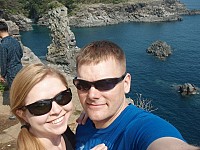 About Susan:
I love to find adventure everywhere. I don't just keep a bucket list, I am always crossing things off. I'm not very picky about my bucket list, if I h ...read more
Mission Statement:
To get as much out of life as I can, try anything at least once, go everywhere I can and don't let a moment slip by. Never say "I wish I would have".
Bucket List Item Information
Drink around the world at Epcot (Orlando, Florida)

Completed on 12/30/2014
"We had a drink at every country in Epcot 1)Canada: Labatt Blue 2) United Kingdom: Strongbow Cider 3) France: Kronenbourg 1664 4) Morocco: Moroccarita & Sultan's Colada 5) Japan: Kirin Draft 6) United States: Sam Adams Beer 7) Italy: Wine (house wine at restaurant) 8) Germany: Gluehwein 9) China: Tsing Tao Draft Beer 10) Norway: Carlsberg Draft Beer 11) Mexico: Margarita, Lime on the Rocks. We made it and we able to walk out! We went kidless so it felt like the right time to cross this one off the list!"

Add This To Your Bucket List
Viewing details are set to Friends Only
Who Witnessed This Event/Item
Who Else Has This On Their Bucket List
Similiar Bucket List Ideas
World's Largest Toy Store, Hamleys (London, England) - 01/26/16 (Susan F)
Visit at least 3 countries on every continent in the world - 12/16/10 (Michael Hill-Jackson)
Visit the Seven Wonders of the Natural World: Mount Everest - 04/18/14 (Steve Morris)
✔Day 1. - Drink Metaxa - 09/18/11 (Around life in 365 days)
Spend The Night In The Presidential Suite Anywhere In The World - (2) people
Change the World - (2) people
set foot on every continent in the world - 07/31/10 (Aki McKenzie)
Scuba Dive the Florida Keys - 02/26/14 (Steve Morris)
Visit Florida - (4) people
Drink for a shot ski (to do) - 11/22/11 (Susan F)