Susan F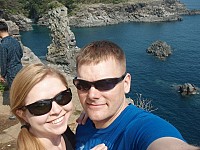 About Susan:
I love to find adventure everywhere. I don't just keep a bucket list, I am always crossing things off. I'm not very picky about my bucket list, if I h ...read more
Mission Statement:
To get as much out of life as I can, try anything at least once, go everywhere I can and don't let a moment slip by. Never say "I wish I would have".
Bucket List Item Information
Add a lock to the Pont Des Arts' Love Padlocks (Paris, France)

Completed on 08/23/2016
"So, you actually can't put them on the bridge any more (they took them all down and put up plastic around the bridge so you can't any more). People had put them on other bridges and places along the river but I didn't want to pay $10 for a lock from people selling them on the street so we just walked across the bridge and tied a metaphorical to the bridge instead. My bucket list I can count it! "

Add This To Your Bucket List
Viewing details are set to Friends Only
Who Witnessed This Event/Item
Who Else Has This On Their Bucket List
Similiar Bucket List Ideas
See France - (7) people
✔Champ de Mars in Paris, France - 08/22/17 (Corinne ~)
Learn to love myself - 01/30/11 (Kari Garcia)
Get married to the love of my life - (6) people
truly love and accept my body - (3) people
Tell someone i love them and mean it - (5) people
✔See hall of mirrors in France - 09/16/17 (Corinne ~)
Fall in love again - (2) people
I Love You, Man - 10/01/15 (Lance Garbutt)
Visit the Notre Dame Cathedral in Paris - 03/19/14 (Steve Morris)