Susan F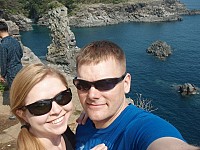 About Susan:
I love to find adventure everywhere. I don't just keep a bucket list, I am always crossing things off. I'm not very picky about my bucket list, if I h ...read more
Mission Statement:
To get as much out of life as I can, try anything at least once, go everywhere I can and don't let a moment slip by. Never say "I wish I would have".
Bucket List Item Information
Go to Gold and Silver Pawn (Las Vegas, Nevada)

Completed on 08/01/2014
"We went here after visiting the Valley of Fire State Park. We didn't buy anything but had fun looking around. They have a lot of neat stuff there but most of it was jewelry, which I had no interest in. "

Add This To Your Bucket List
Viewing details are set to Friends Only
Who Witnessed This Event/Item
Who Else Has This On Their Bucket List
Similiar Bucket List Ideas
✔Lake Mead National Recreation Area (Boulder City, Nevada & Arizona) - 10/30/14 (Susan F)
Visit The Bone Yards In Las Vegas - (2) people
06. Dimitri Vegas & Like Mike - 10/30/13 (Lance Garbutt)
Renew marriage vows in Vegas - 04/27/11 (Johanna O)
Silver Bullet - 09/15/14 (Lance Garbutt)
Own a silver BMW convertible - 03/01/11 (Ashleigh Potential Maturity)
Fly Geyser (Black Rock Desert, Nevada) - 07/27/14 (Susan F)
Visit the Gold & Silver Pawn Shop in Vegas (Pawn Stars) - 08/02/14 (Esther Joy)
50th Year Anniversary – Gold - 08/09/17 (Lance Garbutt)
Spend A New Years Eve In Vegas - 01/19/11 (K Johnson)