Susan F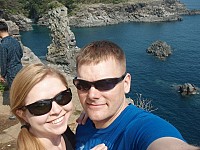 About Susan:
I love to find adventure everywhere. I don't just keep a bucket list, I am always crossing things off. I'm not very picky about my bucket list, if I h ...read more
Mission Statement:
To get as much out of life as I can, try anything at least once, go everywhere I can and don't let a moment slip by. Never say "I wish I would have".
Bucket List Item Information
Visit the Gettysburg Battlefield and say the Gettysburg Address (Gettysburg, Pennsylvania)

Completed on 06/04/2017
"We visited and I read the Gettysburg address off of a statue. Unfortunately right after we left here and went to Hershey, I lost my purse which had my camera in it and I lost all of the photos I took of Gettysburg :("

Add This To Your Bucket List
Viewing details are set to Friends Only
Who Witnessed This Event/Item
Who Else Has This On Their Bucket List
Similiar Bucket List Ideas
Visit the Lascaux Caves - 03/16/14 (Steve Morris)
Visit Amanda in Pennsylvania - 04/17/10 (Heidi McIvor)
Visit an Oxygen Bar - 03/01/14 (Steve Morris)
Visit Painted Caves - 10/15/10 (j nadonza)
Visit Jay and Silent Bobs secret stash - 11/11/12 (Johnny Gonzales)
Visit Korea - (3) people
Visit Cape Canaveral - 06/18/14 (David Teasdell)
Visit Auswich - 06/13/13 (Prasanna Kashikar)
✔Visit Horsethief Cave - 05/28/10 (Johnny 5)
Visit all UK Countys: Surrey - 04/01/14 (Steve Morris)