Susan F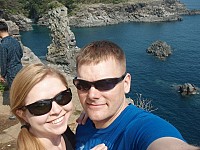 About Susan:
I love to find adventure everywhere. I don't just keep a bucket list, I am always crossing things off. I'm not very picky about my bucket list, if I h ...read more
Mission Statement:
To get as much out of life as I can, try anything at least once, go everywhere I can and don't let a moment slip by. Never say "I wish I would have".
Bucket List Item Information
Step into the void, 12,650 feet above the French Alps (Chamonix, France)

Completed on 08/26/2016
"We went on our anniversary trip and it was so much fun!"

Add This To Your Bucket List
Viewing details are set to Friends Only
Who Witnessed This Event/Item
Who Else Has This On Their Bucket List
Similiar Bucket List Ideas
bungee jump 300+ feet - (2) people
Porte-Cailhau (Bordeaux City Gate) (Bordeaux, France) - 03/15/15 (Susan F)
Participate in a Tour De France - (2) people
Go to a jazz club in New Orleans' French Quarter - 07/21/11 (Annette Keefer)
Watch all Oscar award winning movies: The French Connection - 03/30/14 (Steve Morris)
The Louvre, Paris, France - 03/03/11 (Kari Garcia)
Squish grapes under my feet - 05/02/11 (Mandy Tivnan)
Eat food from around the world: Frogs Legs in France - 01/31/14 (Steve Morris)
391. Crush grapes in a vineyard with my feet - 06/20/11 (Emma McD)
Drink Champagne in Champagne (Champagne, France) - (2) people