Susan F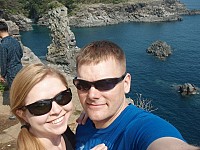 About Susan:
I love to find adventure everywhere. I don't just keep a bucket list, I am always crossing things off. I'm not very picky about my bucket list, if I h ...read more
Mission Statement:
To get as much out of life as I can, try anything at least once, go everywhere I can and don't let a moment slip by. Never say "I wish I would have".
Bucket List Item Information
Kiss at the top of the Eiffle Tower (Paris, France)

Completed on 08/23/2016
"We kissed at the top on our 5 year anniversary!"

Add This To Your Bucket List
Viewing details are set to Friends Only
Who Witnessed This Event/Item
Who Else Has This On Their Bucket List
Similiar Bucket List Ideas
Climb Devil's Tower - 01/29/14 (Steve Morris)
Kiss on a Gondola - (2) people
Go to France - (11) people
✔visit coit tower - 08/30/15 (j nadonza)
Wily Tower - 11/01/14 (Lance Garbutt)
Kiss the Blarney Stone and develope the gift of gab - 08/16/10 (Angela Meyer)
Visit Notre Dame de Paris - 07/25/12 (Johnny Gonzales)
Jubiläumswarte Lookout Tower, Vienna - 04/07/13 (Lance Garbutt)
Midi, French Riviera, France - 07/18/14 (Lance Garbutt)
✔Ride in the Roue de Paris (Ferris Wheel) (Paris, France) - 11/01/11 (Susan F)