Kham Inthammavong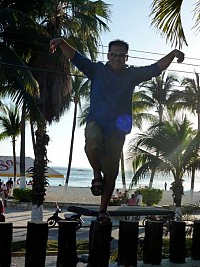 About Kham:
New look on life, more fun and less work.
Mission Statement:
Some way some how I want to be a part of making a positive difference in everyone's life.
Bucket List Item Information
build my own business
"Work when I want to and when I need to."

Completed on 08/30/2005
"Decide to just start a web development company."

Add This To Your Bucket List
Story And Details
It all started with IDS Networking LLC.

http://www.idsnetworking.com

Who knows where it will lead to.
Who Witnessed This Event/Item
Who Else Has This On Their Bucket List
Similiar Bucket List Ideas
✔Experience a White Christmas & build snow people - 03/06/11 (Zimzala )
Build a playground & community garden in an impoverished community - 03/06/11 (Zimzala )
Start Freelance Business - 07/20/10 (Jon Gamble)
Start a successful small business - (2) people
Build a huge fort - 01/16/11 (Bridget Mullen)
Build Tree house - 08/04/11 (Shay Cook)
Build an Eleanor Mustang - 11/10/10 (Melissa Campbell-Serrano)
199. Build a tree house - 06/28/11 (Jirrine Breedijk)
Fly Business Class - (2) people
help out on a habitat for humanity build - 01/13/11 (Misty Hawes-Owen)