Kham Inthammavong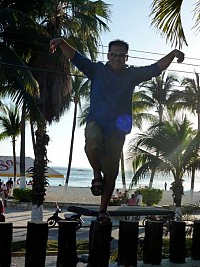 About Kham:
New look on life, more fun and less work.
Mission Statement:
Some way some how I want to be a part of making a positive difference in everyone's life.
Bucket List Item Information
Leave a 100% tip
"Would make a deserving person's day."

Completed on 07/19/2010
"Great service, very appreciative. Won't be the last time. The bill was $27.50."

Add This To Your Bucket List
Story And Details
It was a grand opening of a restaurant a friend works at, so I thought I would just surprise the waitress.

(Twisted Rooster)
Who Witnessed This Event/Item
Who Else Has This On Their Bucket List
Similiar Bucket List Ideas
43. Leave a 100% tip - 11/24/10 (Jordan Sims)
Grow a beard and leave it for at least a month - (3) people
Leave a legacy - (4) people
Leave a note on a strangers car - (2) people
Leave - 04/29/10 (Michael Rittner)
Leave 3,000 dollars with my family when i die, tell them it is strictly for a awesome party - 09/01/12 (Caroline Olmstead)
Sponstanously leave town w/nothing but the clothes on ur back - 11/18/10 (Heather Jaramillo)
✔Tie a disposable camera to a fence and leave a note telling people to take pictures - 03/19/14 (Michelle Hudson)
Visit Hiroshima and leave something in memory behind - 07/11/12 (Chowder Col)
✔Leave hand prints in wet cement - 12/28/14 (Corinne ~)