Michelle Hudson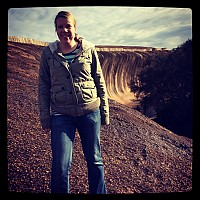 About Michelle:
I love hanging out and going to the beach and surfing even though I'm pretty bad at it. I have had a bucket list since 2005. I'm slowly crossing thing ...read more
Mission Statement:
One day your life will flash before your eyes. Make sure it's worth watching.
Bucket List Item Information
Ride a moose
"I found an old bucket list of mine and this was one of the top things on it so I though I would add it on in honour of younger me."

Add This To Your Bucket List
Who Witnessed This Event/Item
Who Else Has This On Their Bucket List
Similiar Bucket List Ideas
Ride The Subway New York - 05/27/13 (Lance Garbutt)
Ride a Friesian horse - (2) people
Ride on the SS Badger (Manitowoc, Wisconsin) - 05/29/14 (Susan F)
Ride in a monster truck - (4) people
Take a ride on the eurostar - (3) people
Ride on the Palace of Wheels - (2) people
Ride a horse again - 09/29/10 (Jannali Jones)
Ride a gondola - 06/05/11 (Scott Klima)
Ride on a gondola in Venice - 07/25/10 (Kris Grove)
train ride across italy - 08/14/11 (David Gerdevich)