Michelle Hudson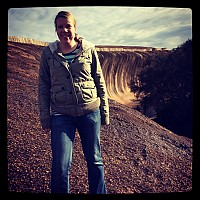 About Michelle:
I love hanging out and going to the beach and surfing even though I'm pretty bad at it. I have had a bucket list since 2005. I'm slowly crossing thing ...read more
Mission Statement:
One day your life will flash before your eyes. Make sure it's worth watching.
Bucket List Item Information
Open a can with a can opener
"I can't do it I don't know why, I just can't open cans with a can opener. I have to buy cans which pull open or I have to get someone to open them for me. "

Completed on 02/12/2014
"It was hard work and it took me about ten minutes but I got it open thanks to the help of my house mate Dalton."

Add This To Your Bucket List
Who Witnessed This Event/Item
Who Else Has This On Their Bucket List
Similiar Bucket List Ideas
✔Hold a door open for someone - 10/03/13 (Lance Garbutt)
Open a bar - 07/28/10 (Laura Kennedy)
Bury a time capsule when I'm 30... open it when I'm 60 - (2) people
✔Write on a upside down paper cup "Do not open unless you plan to kill it" - 02/03/14 (Michelle Hudson)
Sports - Attend US Open tennis in NYC - 08/10/11 (Carroll VerSteeg)
Make a time capsule on the first day of kindergarten (complete with a letter to my future self) and open it on graduation day from high school - 02/22/15 (o f)
✔Attend a Buffalo Sabres home opener - 01/06/13 (Lyndsay Licata)
Open a cat sanctuary - 08/01/10 (Irene Irene)
Spend a night in the desert under open sky - 12/28/13 (Benjamin Fischer)
53) MAKE A TIME CAPSULE KEEPSAKE BOX, SEAL IT, AND OPEN IT IN 10 OR 20 YEARS - 01/20/12 (Marisa M)