Michelle Hudson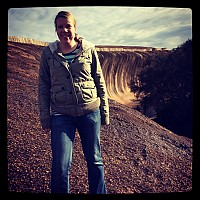 About Michelle:
I love hanging out and going to the beach and surfing even though I'm pretty bad at it. I have had a bucket list since 2005. I'm slowly crossing thing ...read more
Mission Statement:
One day your life will flash before your eyes. Make sure it's worth watching.
Bucket List Item Information
Meet the mebers of Simple Plan
"Favorite band ever, I really want to meet them at one of there meet and greets or any where would make me happy."

Completed on 06/03/2012
"Before the concert I got to go to there sound check party where they played a song and then came round giving hugs and letting people have pics with them. It was totally awesome. I had to resist the urge to scream like a little girl four people actually cried it was funny."

Add This To Your Bucket List
Who Witnessed This Event/Item
Who Else Has This On Their Bucket List
Similiar Bucket List Ideas
Meet Taylor Lautner - (2) people
✔Meet Sarah Silverman - 02/01/11 (Kari Garcia)
Meet Travis Barker - 03/20/11 (Ashley Stice)
Meet my older half brother - 06/05/10 (Mae Babcock)
Meet my GP sister Ashley - 07/19/12 (Victoria Fiedler)
Meet an actual Samurai - (3) people
Always have a plan - 11/04/10 (Jorge Laurence Eleazar)
Meet Courageous Kid Mia :) - 07/12/12 (Alli Baker)
Meet a classic movie star before they all die - (3) people
Meet the Dalai Lama - (6) people