Susan F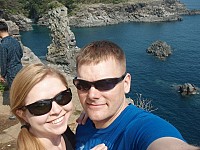 About Susan:
I love to find adventure everywhere. I don't just keep a bucket list, I am always crossing things off. I'm not very picky about my bucket list, if I h ...read more
Mission Statement:
To get as much out of life as I can, try anything at least once, go everywhere I can and don't let a moment slip by. Never say "I wish I would have".
Bucket List Item Information
Throw a coin in the Trevi Fountain (Rome Italy)

Completed on 06/29/2007
"Caitlin, Colleen, Rob and myself hung out in Rome for a day and we went to the turning of the lights of the Trevi Fountain and threw a coin in there."

Add This To Your Bucket List
Viewing details are set to Friends Only
Who Witnessed This Event/Item
Who Else Has This On Their Bucket List
Similiar Bucket List Ideas
✔Take picture at William Mulhulland Memorial Fountain - 10/02/10 (j nadonza)
✔Have a train run over a coin - 08/02/14 (Esther Joy)
Throw a fistful of glitter in the air - (2) people
Tiramasu in Vienna, Italy - 01/25/17 (Corinne ~)
✔Visit Crown Fountain in Chicago - 08/01/14 (Esther Joy)
Throw up off Mackinac Bridge - 07/20/10 (Jon Gamble)
✔Throw my hands up in the air, saying AYO, gotta let go - 06/15/11 (Russell Doiron)
Go swimming in a public fountain - (5) people
Learn enough Italian to visit Rome - 08/08/10 (Alex Jackson)
Go to Northern Italy - 01/11/11 (Sarah Christensen)