Susan F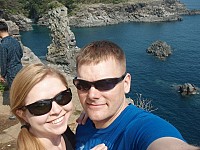 About Susan:
I love to find adventure everywhere. I don't just keep a bucket list, I am always crossing things off. I'm not very picky about my bucket list, if I h ...read more
Mission Statement:
To get as much out of life as I can, try anything at least once, go everywhere I can and don't let a moment slip by. Never say "I wish I would have".
Bucket List Item Information
Ride on a train (not a subway) (to do)

Completed on 06/01/2007
"I rode a train from Rome to Orvieto Italy on my way to the archaeological dig. It was so beautiful to see the Italian countryside."

Add This To Your Bucket List
Viewing details are set to Friends Only
Who Witnessed This Event/Item
Who Else Has This On Their Bucket List
Similiar Bucket List Ideas
take a nighttime ride on a gondola in Venice - 06/01/10 (stephanie davis)
Ride a Penny-farthing - 04/23/14 (Steve Morris)
Ride 10 carriage rides around a city Carson and I are visiting - 07/26/14 (Susan F)
Ride a donkey in the Grand Canyon - 06/27/12 (Jessica Gregor)
Take my sons on a steam train ride - 12/12/10 (Elissa R)
Go on a ferry ride - 12/01/17 (Megan Nicole)
Ride on a float in a parade - (3) people
Ride a huge rollercoaster with at least 2 loops - 04/19/11 (Samantha Longmire)
Ride Limosene - 04/01/13 (Lance Garbutt)
Ride on a segway - 07/18/12 (Johnny Gonzales)