Michelle Hudson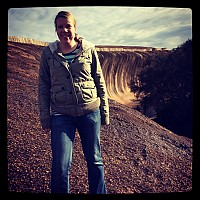 About Michelle:
I love hanging out and going to the beach and surfing even though I'm pretty bad at it. I have had a bucket list since 2005. I'm slowly crossing thing ...read more
Mission Statement:
One day your life will flash before your eyes. Make sure it's worth watching.
Bucket List Item Information
Kiss the blarney stone and develop the gift of the gab
"This was voted the most unhygienic land mark in the western world, so who wouldn't want to kiss it."

Add This To Your Bucket List
Who Witnessed This Event/Item
Who Else Has This On Their Bucket List
Similiar Bucket List Ideas
Kiss the most beautiful person in the world - 08/11/10 (Nicholas Todd)
Get under 9 stone - 11/01/11 (Lisa Jones)
Kiss someone at midnight on New years - (6) people
Hug and kiss (if only in the cheeks...) David Tennant and get an autogram from him. ^^ - 02/20/11 (Emily Rose Addams)
58. Kiss someone at midnight on New Year's - (2) people
Skip a stone across water at least 4 times - 03/28/14 (Susan F)
✔Karma Sutra Postion - The Bent Kiss - 01/25/16 (Lance Garbutt)
kiss at beach under sunset - 08/04/11 (Shay Cook)
✔Experience Hot Stone Massarge - 03/30/13 (Lance Garbutt)
Kiss a complete stranger on the street. And make it a good kiss - 06/20/12 (Grace Hileman)