Michelle Hudson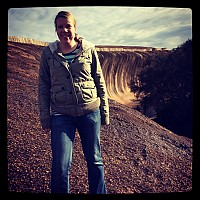 About Michelle:
I love hanging out and going to the beach and surfing even though I'm pretty bad at it. I have had a bucket list since 2005. I'm slowly crossing thing ...read more
Mission Statement:
One day your life will flash before your eyes. Make sure it's worth watching.
Bucket List Item Information
Run in fancy dress
"Who wouldn't want to run dressed as santa or a super hero etc..."

Completed on 12/09/2012
"Ran in the Santa run today in ulverstone it was 5.2Km. I did it in 35 minutes without stopping or walking which I think is awesome. "

Add This To Your Bucket List
Photos
How I looked after running 5.2km in 20 degrees heat
added on 12/09/12 03:33 am
How I looked at the start of the race
added on 12/09/12 03:32 am
Who Witnessed This Event/Item
Who Else Has This On Their Bucket List
Similiar Bucket List Ideas
Participate in a wedding dress flash mob - (2) people
Dress as Iron Man - 09/09/14 (Lance Garbutt)
find the perfect for everything little black dress - 02/22/11 (Kameron Mason)
Dress as Yosemite Sam - 09/11/14 (Lance Garbutt)
dress homeless, beg for money than donate the money to charity - (2) people
Dress as Jigsaw - 09/10/14 (Lance Garbutt)
Dress as Bowser - 09/09/14 (Lance Garbutt)
349. Dress in a funny costume and run down the streets - 03/16/11 (Emma McD)
Try on a beautiful designer brand wedding dress - 08/19/12 (Jess ica)
Dress up for Halloween - (2) people