Michelle Hudson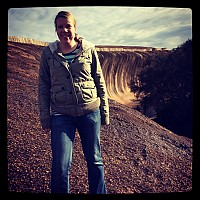 About Michelle:
I love hanging out and going to the beach and surfing even though I'm pretty bad at it. I have had a bucket list since 2005. I'm slowly crossing thing ...read more
Mission Statement:
One day your life will flash before your eyes. Make sure it's worth watching.
Bucket List Item Information
Swim in a public foutaine
"And try not to get arrested."

Completed on 07/02/2014
"I got up at 0400 to catch the train so I could do this. I'm not sure if its illegal but it is frowned upon. So I thought it was best to do it early. It wasn't really deep enough to swim and was far to cold. It was just me and the duckies splashing around. After about 5 minutes my feet went numb so I got out."

Add This To Your Bucket List
Who Witnessed This Event/Item
Who Else Has This On Their Bucket List
Similiar Bucket List Ideas
Swim in the seas: Gulf of California (also known as the Sea of Cortés) - 08/11/10 (Nicholas Todd)
Swim in the seas: Bay of Bengal - 08/11/10 (Nicholas Todd)
Swim in the seas: Irish - 08/11/10 (Nicholas Todd)
Swim in the Dead Sea - (26) people
Swim in the: Amundsen Gulf - 03/30/14 (Steve Morris)
Swim in the seas: Gulf of Bothnia - 08/11/10 (Nicholas Todd)
Swim in the: Lake Turkana - 03/30/14 (Steve Morris)
Swim with the Whalesharks - 05/27/11 (shelton clark jr)
Dress in authentic 1950's Stepford Wife style and go out in public - 05/12/11 (Elizabeth Essex)
Swim in the seas: Denmark Strait - 08/11/10 (Nicholas Todd)