Susan F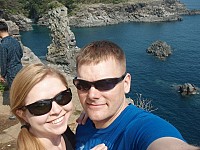 About Susan:
I love to find adventure everywhere. I don't just keep a bucket list, I am always crossing things off. I'm not very picky about my bucket list, if I h ...read more
Mission Statement:
To get as much out of life as I can, try anything at least once, go everywhere I can and don't let a moment slip by. Never say "I wish I would have".
Bucket List Item Information
Ride in the Roue de Paris (Ferris Wheel) (Paris, France)

Completed on 08/24/2016
"We rode on it after we had dinner on a river cruise on the Seine river!"

Add This To Your Bucket List
Viewing details are set to Friends Only
Who Witnessed This Event/Item
Who Else Has This On Their Bucket List
Similiar Bucket List Ideas
Ride a Segway - (16) people
Ride a camal in the Sahara Desert - 08/30/11 (Michaela Mandujano)
Ride In A Hovercraft - 10/23/13 (Lance Garbutt)
18. go to London, Paris, Milan, and New York fashion week - (3) people
Ride a merry go round by myself - 02/27/15 (o f)
Ride a hot air ballon - (3) people
Ride the ten largest roller coasters in the world - 09/13/11 (Molly Phillips)
✔Hall of mirrors in Versailles (Versailles, France) - 02/28/15 (Susan F)
Ride a trolley in San Francisco - (2) people
✔Ride in Corvette with the top down - 09/28/10 (Carol Smith)