Michelle Hudson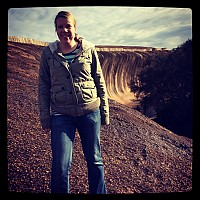 About Michelle:
I love hanging out and going to the beach and surfing even though I'm pretty bad at it. I have had a bucket list since 2005. I'm slowly crossing thing ...read more
Mission Statement:
One day your life will flash before your eyes. Make sure it's worth watching.
Bucket List Item Information
Eat my last meal
"I will never know what my last meal might be so I plan to set out all my favorite foods and have a feast."

Completed on 04/03/2014
"It became a 4 course meal. I just kept thinking of things I wanted to eat. In the end it was: 1st course King Island double bre cheese and cheds. 2nd Garlic bread and tomato sauce. 3rd tomato sauce and German sandwich. 4th Lemon meringue pie."

Add This To Your Bucket List
Who Witnessed This Event/Item
Who Else Has This On Their Bucket List
Similiar Bucket List Ideas
Splurge on a once-in-a-lifetime meal at one of the world's best restaurants - 07/14/14 (Lance Garbutt)
Make a gourmet meal for a homeless person - 07/11/12 (Chowder Col)
Pay for everyone's meal at a Resturant - 09/01/12 (Caroline Olmstead)
Cook a 5 Course Meal - (2) people
have a meal with a complete stranger in a restaurant - 09/30/11 (Courtney Newell)
Cook and eat the state meal of Oklahoma (to do) - 11/23/11 (Susan F)
Cook Every Meal in a Cookbook - (Vegetarian) - 01/30/14 (Steve Morris)
151. Cook a 5 course meal - 06/29/11 (Jirrine Breedijk)
Buy a homeless person a meal + clothing - (2) people
pay for someones meal that i dont know - (3) people