Susan F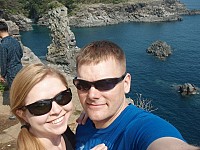 About Susan:
I love to find adventure everywhere. I don't just keep a bucket list, I am always crossing things off. I'm not very picky about my bucket list, if I h ...read more
Mission Statement:
To get as much out of life as I can, try anything at least once, go everywhere I can and don't let a moment slip by. Never say "I wish I would have".
Bucket List Item Information
Walk on the sky deck on Sears Tower (Chicago, Illinois)

Completed on 09/21/2011
"Willis tower now. With Carson on our trip to Chicago"

Add This To Your Bucket List
Viewing details are set to Friends Only
Who Witnessed This Event/Item
Who Else Has This On Their Bucket List
Similiar Bucket List Ideas
✔Walk Around Narrabeen Lakes - 03/30/13 (Lance Garbutt)
Visit the Eiffel tower in Paris, Texas - 03/28/11 (Autie Barnes)
Walk the famous labyrinth in Chartres Chathedral - 08/12/12 (Johnny Gonzales)
White Tower of Thessaloniki - 04/03/13 (Lance Garbutt)
Tower of Druaga - 11/08/14 (Lance Garbutt)
Fairy Pools walk on the Isle of Skye in Scotland - 03/17/19 (Corinne ~)
Abraj Al-Bait Clock Tower, Mecca, Saudi Arabia - 08/24/14 (Lance Garbutt)
walk in desert - 08/04/11 (Shay Cook)
186. Have a walk-in closet - (2) people
Walk all the Trails in Hamsterly Forest: Yellow Walk - 04/18/14 (Steve Morris)