Susan F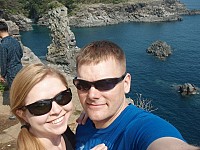 About Susan:
I love to find adventure everywhere. I don't just keep a bucket list, I am always crossing things off. I'm not very picky about my bucket list, if I h ...read more
Mission Statement:
To get as much out of life as I can, try anything at least once, go everywhere I can and don't let a moment slip by. Never say "I wish I would have".
Bucket List Item Information
Go back to Disney World as an adult (Orlando, Florida)

Completed on 12/30/2014
"Carson and I went to Epcot (without O) and drank around the world! and rode some rides :)"

Add This To Your Bucket List
Viewing details are set to Friends Only
Who Witnessed This Event/Item
Who Else Has This On Their Bucket List
Similiar Bucket List Ideas
Do the Disney World Marathon - 06/05/13 (Michelle Hudson)
Go backstage at Sea World and pet a killer whale - (4) people
Do a back handspring without help - (2) people
Visit at least 3 countries on every continent in the world - 12/16/10 (Michael Hill-Jackson)
Leave a mark on the world of science - 11/12/10 (Nobuyuki Shimizu)
Eat food from around the world: Kentucky Fried Chicken in Kentucky - 01/31/14 (Steve Morris)
St. George Island State Park, Florida - 09/01/14 (Lance Garbutt)
The Living Edens - Madagascar: A World Apart - 08/25/10 (Steph R)
Save the world - (2) people
Take my kids to Disney World - (5) people