Susan F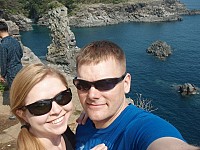 About Susan:
I love to find adventure everywhere. I don't just keep a bucket list, I am always crossing things off. I'm not very picky about my bucket list, if I h ...read more
Mission Statement:
To get as much out of life as I can, try anything at least once, go everywhere I can and don't let a moment slip by. Never say "I wish I would have".
Bucket List Item Information
Get Married (to do)

Completed on 08/23/2011
"Carson and I got married today in Lawton. "

Add This To Your Bucket List
Viewing details are set to Friends Only
Who Witnessed This Event/Item
Who Else Has This On Their Bucket List
Similiar Bucket List Ideas
see my kids married in the temple - 08/24/11 (Megan T)
Get married by 24 - 05/09/11 (Jordan Bermingham)
Get Married... and stay happily married - (8) people
Get married and have a family - 11/26/12 (Amanda Melville)
Get married in Salt Lake City Temple - (2) people
Get married by an Elvis impersonator in Vegas - 07/13/12 (Johnny Gonzales)
✔Get married before I'm 25 - 06/28/12 (Johnny Gonzales)
Get married in the church where my parents got married - 08/14/11 (Jessica wallis)
dont have sex til im married - 05/22/12 (Kimberly Miller)
get married wearing Chuck Taylor's - 06/08/10 (Joshua Stanley)