Susan F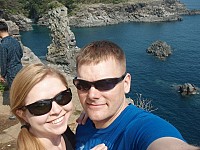 About Susan:
I love to find adventure everywhere. I don't just keep a bucket list, I am always crossing things off. I'm not very picky about my bucket list, if I h ...read more
Mission Statement:
To get as much out of life as I can, try anything at least once, go everywhere I can and don't let a moment slip by. Never say "I wish I would have".
Bucket List Item Information
Go White Water Rafting

Completed on 07/03/2011
"Carson and I went White Water Rafting at the Royal Gorge near Colorado Spring, Colorado. He rode in the very front without a splash jacket or wet suit and it was freezing cold! I was behind him but I wore a splash jacket, I'm not crazy."

Add This To Your Bucket List
Viewing details are set to Friends Only
Who Witnessed This Event/Item
Who Else Has This On Their Bucket List
Similiar Bucket List Ideas
Grow white oleander and red poppies in a garden - 08/13/10 (Kate Torres)
12 To drop a water balloon off the top floor - 12/13/10 (Tyler Carver)
Have Sex: Under Water - 04/13/14 (Steve Morris)
Ride one of those crazy funnel water rides at a water park - 08/01/14 (Esther Joy)
have a huge water balloon fight - 10/25/12 (Ebony Wilkinson)
✔Water Lilies 2007 - 07/20/10 (Movie List)
✔Dye My Hair White - 05/18/12 (David Roush)
Go Water Skiing - (7) people
Climb a water tower - (2) people
Water fight - 06/07/11 (Alicia And Sierra)