Susan F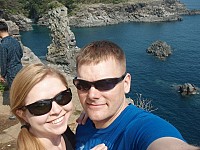 About Susan:
I love to find adventure everywhere. I don't just keep a bucket list, I am always crossing things off. I'm not very picky about my bucket list, if I h ...read more
Mission Statement:
To get as much out of life as I can, try anything at least once, go everywhere I can and don't let a moment slip by. Never say "I wish I would have".
Bucket List Item Information
Ride the 10 best Rollercoasters in the World (New Jersey, Japan, Ohio, California, Spain, Texas, England)
"1) Kingda Ka- Jackson Township, New Jersey 2) Steel Dragon- Mie Prefecture, Japan 3) Millennium Force- Sandusky, Ohio 4) Top Thrill Dragster- Sandusky, Ohio 5) Dodonpa- Yamanashi, Japan 6)Thunder Dolphin- Tokyo, Japan 7) Goliath- Valencia, California 8) Dragon Khan- Catalonia, Spain 9) Titan- Arlington, Texas 10) Nemesis- Alton Towers, England "

Add This To Your Bucket List
Viewing details are set to Friends Only
Who Witnessed This Event/Item
Who Else Has This On Their Bucket List
Similiar Bucket List Ideas
Attend the Cherry Blossom Festival in Japan - (2) people
Helicopter ride at Panama City beach - 03/20/11 (Cheryl Warbington)
Ride around the Nurburgring, Germany - (2) people
Ride The Scariest Rollercoaster In The U.S The Kingda Ka At Six Flags In Jackson, NJ - 04/11/13 (Lance Garbutt)
Shakespeare Globe Theater (London, England) - 02/28/15 (Susan F)
Ride on a jetski - (3) people
ride in a horse drawn carraige - (2) people
Ride a moose - 08/11/12 (Michelle Hudson)
Eat food from around the world: A Frankfurter in Frankfurt - 01/31/14 (Steve Morris)
Arashiyama Bamboo Grove , Kyoto - Japan - 11/11/13 (Lance Garbutt)