Susan F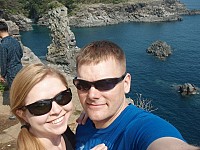 About Susan:
I love to find adventure everywhere. I don't just keep a bucket list, I am always crossing things off. I'm not very picky about my bucket list, if I h ...read more
Mission Statement:
To get as much out of life as I can, try anything at least once, go everywhere I can and don't let a moment slip by. Never say "I wish I would have".
Bucket List Item Information
Learn to swim underwater without holding my nose (to do)

Completed on 08/28/2014
"Hadn't learned to do this as an adult, still need more practice but I think I got the hang of it!"

Add This To Your Bucket List
Viewing details are set to Friends Only
Who Witnessed This Event/Item
Who Else Has This On Their Bucket List
Similiar Bucket List Ideas
Learn how to: Play Curling - 02/22/14 (Steve Morris)
Learn how to - make the perfect omelette - 07/09/14 (Marsha Roberts)
✔Swim 10 Mtrs Underwater - 02/21/14 (Steve Morris)
Learn one more language - 07/10/10 (Ashley Valencia)
Swim in the seas: Prince Gustav Adolf Sea - 08/11/10 (Nicholas Todd)
Learn HTML - (2) people
Learn to make Jamie Oliver recipe by heart - (2) people
✔Learn a new musical instrument - 03/28/14 (Susan F)
Learn how to drive car and motorcyle - 11/04/10 (Jorge Laurence Eleazar)
Learn to make homemade mac n' cheese - 07/11/12 (Chowder Col)