Susan F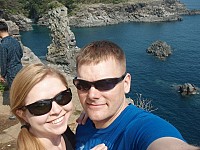 About Susan:
I love to find adventure everywhere. I don't just keep a bucket list, I am always crossing things off. I'm not very picky about my bucket list, if I h ...read more
Mission Statement:
To get as much out of life as I can, try anything at least once, go everywhere I can and don't let a moment slip by. Never say "I wish I would have".
Bucket List Item Information
Dance a silly dance in Time Square (New York, New York)

Completed on 10/15/2012
"We went here after visiting a comedy club. It was probably 10:30pm and it wasn't super crowded. I danced around in a little circle and it was fun!"

Add This To Your Bucket List
Viewing details are set to Friends Only
Who Witnessed This Event/Item
Who Else Has This On Their Bucket List
Similiar Bucket List Ideas
Learn Flamenco Dance - 10/22/13 (Lance Garbutt)
New York Broadway - 05/16/11 (Tiffany Williams)
Go to a Pub in New York - 01/30/11 (Kari Garcia)
Live in new york for a year - 01/29/12 (Chay Diaz)
Have a picnic in the park with my kids in the spring time - (2) people
✔Once Upon A Time Season 2 - 03/05/17 (Lance Garbutt)
58. ride a yellow cab in New York - (2) people
Ask for different color nailpolish on all ten toes every time I get a pedicure - 06/20/12 (Grace Hileman)
Stand on the boarder of two countries at the same time - (2) people
Shop at Lenox Square - 03/20/11 (Cheryl Warbington)