Susan F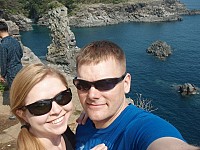 About Susan:
I love to find adventure everywhere. I don't just keep a bucket list, I am always crossing things off. I'm not very picky about my bucket list, if I h ...read more
Mission Statement:
To get as much out of life as I can, try anything at least once, go everywhere I can and don't let a moment slip by. Never say "I wish I would have".
Bucket List Item Information
Fly First Class (to do)

Completed on 04/13/2012
"When Carson and I went to Jeju Island, only a 50 minute flight but still comfy and roomy!"

Add This To Your Bucket List
Viewing details are set to Friends Only
Who Witnessed This Event/Item
Who Else Has This On Their Bucket List
Similiar Bucket List Ideas
Take a Cooking Class for Something I've Never Made Before - 03/31/14 (Steve Morris)
Take A Class In Kung Fu - 10/12/13 (Lance Garbutt)
painting class - (2) people
✔First Class Bus Coach Ride - 06/15/13 (Lance Garbutt)
Take a flower-arranging class - 10/25/12 (Ebony Wilkinson)
Take a graphic design class - 06/07/13 (Stacey Ellis)
✔Experience Zumba Class - 03/30/13 (Lance Garbutt)
Take a massarge Class - 03/30/13 (Lance Garbutt)
take a cooking class in France and/or Italy - (2) people
Take A Class In Karate - (2) people