Susan F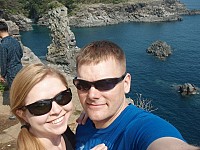 About Susan:
I love to find adventure everywhere. I don't just keep a bucket list, I am always crossing things off. I'm not very picky about my bucket list, if I h ...read more
Mission Statement:
To get as much out of life as I can, try anything at least once, go everywhere I can and don't let a moment slip by. Never say "I wish I would have".
Bucket List Item Information
Milk a cow (to do)

Completed on 06/21/2015
"We went to a farm on Father's day and they had a cow you could milk!Surprisingly it wasn't that hard!"

Add This To Your Bucket List
Viewing details are set to Friends Only
Who Witnessed This Event/Item
Who Else Has This On Their Bucket List
Similiar Bucket List Ideas
5) milk a cow/goat - 01/03/11 (chazzlynn and haley)
milk a goat - (6) people
Own a pair of black milk leggings - 12/17/11 (Caroline Kulikowski)
Go to the Konbini and Buy Strawberry Milk Candies - 06/03/10 (Missy Muyot)
Drink sheep milk - 07/07/14 (Marsha Roberts)
Experience a Milk Face Mask - 10/29/17 (Lance Garbutt)
Drink camel milk - 07/07/14 (Marsha Roberts)
Take the gallon milk challenge - 07/28/12 (Johnny Gonzales)
✔Make Coconut Milk - 08/23/16 (Lance Garbutt)
Milk a cow. Drink that - 01/20/11 (Yipeng Wang)