Susan F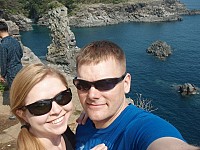 About Susan:
I love to find adventure everywhere. I don't just keep a bucket list, I am always crossing things off. I'm not very picky about my bucket list, if I h ...read more
Mission Statement:
To get as much out of life as I can, try anything at least once, go everywhere I can and don't let a moment slip by. Never say "I wish I would have".
Bucket List Item Information
Have a really passionate kiss in the rain (to do)

Completed on 09/11/2011
"In Mexico on our honeymoon. It started raining and Carson said that we should kiss in the rain so I could cross it off my bucket list. :)"

Add This To Your Bucket List
Viewing details are set to Friends Only
Who Witnessed This Event/Item
Who Else Has This On Their Bucket List
Similiar Bucket List Ideas
Kiss someone at midnight on New Year's Eve - (3) people
Get my first kiss from a boy (don't tell my Daddy!) - 05/15/12 (Molly Dunne)
Have a meaningful kiss - (2) people
Kiss a dolphin - 11/02/10 (Caroline Kulikowski)
Be woken up with a kiss - (2) people
✔Karma Sutra Postion - The Pressed Kiss - 01/25/16 (Lance Garbutt)
See the Amazon rain forest - 06/26/10 (Kaitlyn Nesbitt)
Go hiking in the rain - 10/28/12 (Ebony Wilkinson)
Kiss a boy - 12/15/13 (Annabel Taylore)
✔Karma Sutra Postion - The Kiss That Turns Away - 01/25/16 (Lance Garbutt)