Kham Inthammavong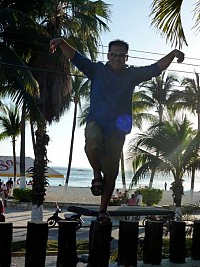 About Kham:
New look on life, more fun and less work.
Mission Statement:
Some way some how I want to be a part of making a positive difference in everyone's life.
Bucket List Item Information
Go Snorkling

Completed on 07/30/2008
"Not as great as I thought, unfortunately the only memory is losing my wedding ring in the Pacific Ocean."

Add This To Your Bucket List
Who Witnessed This Event/Item
Who Else Has This On Their Bucket List
Similiar Bucket List Ideas
Go snorkling or scuba diving - 06/09/12 (Ceeya Bye)
Snorkling with Whale Sharks (Atlanta) - 06/12/10 (Michelle Dip)
✔Catamaran Snorkling Party in Cancun - 04/14/16 (Corinne ~)
Go snorkling in Australia - 01/19/11 (Misty Hawes-Owen)
6. go snorkling or scuba diving - 11/18/11 (Shelby Seiler)