Michelle Hudson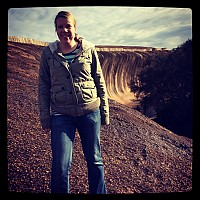 About Michelle:
I love hanging out and going to the beach and surfing even though I'm pretty bad at it. I have had a bucket list since 2005. I'm slowly crossing thing ...read more
Mission Statement:
One day your life will flash before your eyes. Make sure it's worth watching.
Bucket List Item Information
Tour a night ghost tour
"This would be spooky and fun."

Completed on 01/12/2013
"I went on a ghost tour of Hobart and leant about some of Hobart's history which was cool. In one building the tour guide told us to go up to the top room and see if we felt anything. I suddenly felt really dizzy and had to hold onto the walls. One other person felt sick but that was all. After we had all been up there he said the floor boards came from an old ship and it was believed that the boards still held the memory of the sea. Everyone laughed but I always get dizzy on boats and that's what I felt up there so who knows it was a ship once. "

Add This To Your Bucket List
Who Witnessed This Event/Item
Who Else Has This On Their Bucket List
it's usually one of the highlights of my trips ;)
photos
Similiar Bucket List Ideas
Party in a limo for a night - 12/28/12 (Miranda Hogan)
Participate in a Tour De France - (2) people
party all night in the city till sunrise - 07/22/10 (Pip Stoneham)
Spend the night somewhere haunted - (3) people
Da Nang at night (Da Nang, Vietnam) - 10/29/14 (Susan F)
Spend the night in the Dream Suite at Disneyland - 01/25/13 (Jodi Gillians)
Spend a night in a haunted house (alone? O_O) - 03/06/11 (Zimzala )
Go out one night feeling abolutely fantastic and beautiful - 01/03/11 (Dream Big!)
Visit a ghost town - (4) people
✔Tour the Queen Mary - 05/09/13 (Jodi Gillians)