Kham Inthammavong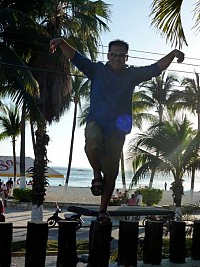 About Kham:
New look on life, more fun and less work.
Mission Statement:
Some way some how I want to be a part of making a positive difference in everyone's life.
Bucket List Item Information
Go on a helicopter ride
"Wish I would have done it on my honeymoon when I had the chance."

Completed on 08/28/2010
"Had a blast!"

Add This To Your Bucket List
Story And Details
We went over the Vegas Strip, Lake Mead, Hoover Dam and the Grand Canyon.

Awesome!
Photos
Over the Grand Canyon
added on 08/30/10 11:18 am
Over the Vegas Strip
added on 08/30/10 11:17 am
added on 08/30/10 11:16 am
Who Witnessed This Event/Item
Who Else Has This On Their Bucket List
Similiar Bucket List Ideas
ride a Harley Davidson - (3) people
✔Ride Behemoth at Wonderland - 08/03/10 (Brittany *)
Ride my bike around crater lake - 08/26/10 (Stephanie Brennan)
Ride a mechanical bull - (145) people
To ride a wheelie for over 5 seconds - 12/21/10 (Matt Halter)
Ride on top of an elephant - 06/26/10 (Kaitlyn Nesbitt)
Ride on a gondola in Venice - 07/25/10 (Kris Grove)
Yell "For Narnia" on an amusement park ride - (3) people
Ride on a steam boat - (2) people
Ride a horse on the beach (to do) - 07/14/11 (Susan F)