Stephanie G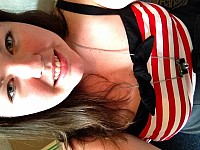 About Stephanie:
I'm a storyteller and a dreamer, I like creating things, writing, taking photos, making plans etc. I want to live a fairytale life but reality is very ...read more
Mission Statement:
The only limits are the ones you put on yourself.
Bucket List Item Information
Write a letter to my future self

Completed on 11/11/2010
"Done this a few times. Always set goals and end up falling short. So far its been a disappointing experiance but one day I might surprise myself."

Add This To Your Bucket List
Who Witnessed This Event/Item
Who Else Has This On Their Bucket List
Similiar Bucket List Ideas
Write and publish a book - (5) people
Write and illustrate a children's book - (2) people
Buy a card and write a nice message in it and put it on a strangers car - (2) people
write a letter to child hood best friend - (2) people
Write my Autobiography - 06/21/10 (Len Murtha)
Have the brave to sing the songs I write on Youtube - 06/14/11 (Emily Rose Addams)
Learn to write well with my right hand - 09/19/10 (Jessica Mallow)
1. Write the stories I've had in my head forever - (2) people
Write and record a song - (2) people
✔28/365 - Write a text adventure game - 04/12/12 (Beke (eRic) Richárd)