Michelle Hudson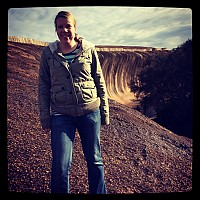 About Michelle:
I love hanging out and going to the beach and surfing even though I'm pretty bad at it. I have had a bucket list since 2005. I'm slowly crossing thing ...read more
Mission Statement:
One day your life will flash before your eyes. Make sure it's worth watching.
Bucket List Item Information
Make a new years resolution and complete it by the end of the year
"I usually make them and give up after a couple of weeks."

Completed on 12/31/2012
"My 2012 new year resolution was to become fit and healthy and cross ten things off my bucket list. This year I have lost 15kg, I have run two 10km races and one 5km race and in 13 day will be running a half marathon. I have also managed to cut down all the medication I had to start last year because I got so sick to just two tablets which I should be able to cut out all together if I stay on track with my healthy eating and exercise which would be awesome. I also managed to corss off over ten things off my bucket list like I wanted too. :-D"

Add This To Your Bucket List
Who Witnessed This Event/Item
Who Else Has This On Their Bucket List
Similiar Bucket List Ideas
Make someone's day - 08/04/11 (Shay Cook)
✔Make a Gigantic Bubble - 12/29/15 (Lance Garbutt)
Live a year in Italy and learn properly Italian - 07/17/10 (JO Dudi)
✔Take a Selfie everyday for a year - 07/18/14 (Lance Garbutt)
Complete a Walkathon Fundraiser - 01/30/14 (Steve Morris)
Make it to the Price is Right - 05/08/12 (Katie Saulsgiver)
✔Read 400 books and graphic novels in one year - 10/23/15 (j nadonza)
Read the complete works of Plato - 09/01/12 (Johnny Gonzales)
Earn a Master Degree (2 years Left) - 07/30/12 (Justin Concepcion)
Complete 10 pinterest projects - 12/27/15 (Jaimee-Leigh Wignell)