Kham Inthammavong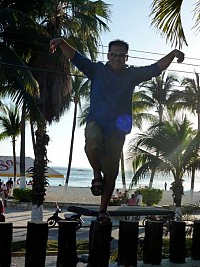 About Kham:
New look on life, more fun and less work.
Mission Statement:
Some way some how I want to be a part of making a positive difference in everyone's life.
Bucket List Item Information
Play 63 holes of golf in one day

Completed on 06/11/2005
"Started at 7:00am to 9:00pm, what a perfect day."

Add This To Your Bucket List
Who Witnessed This Event/Item
Who Else Has This On Their Bucket List
Similiar Bucket List Ideas
✔Play a game of Solitaire where I lose from the very beginning - 08/03/12 (Sarah Brink)
Play Reversi / Othello - 09/21/14 (Lance Garbutt)
✔Play mud volleyball - 10/15/12 (Samantha Ferry)
Sports - Attend at least 3 major golf tournaments - 08/10/11 (Carroll VerSteeg)
Learn to play the guitar...well - 06/10/11 (Joan Sofa)
watch a broadway play - (2) people
✔Play The Castanets - 10/24/13 (Lance Garbutt)
✔Play A April Fool's Joke On Someone - 12/25/13 (Lance Garbutt)
✔Play charades - 09/30/13 (Lance Garbutt)
Learn how to: Play the Ocarina - 02/26/14 (Steve Morris)